There are four ways you can support the important work of the Harbor Branch Oceanographic Institute: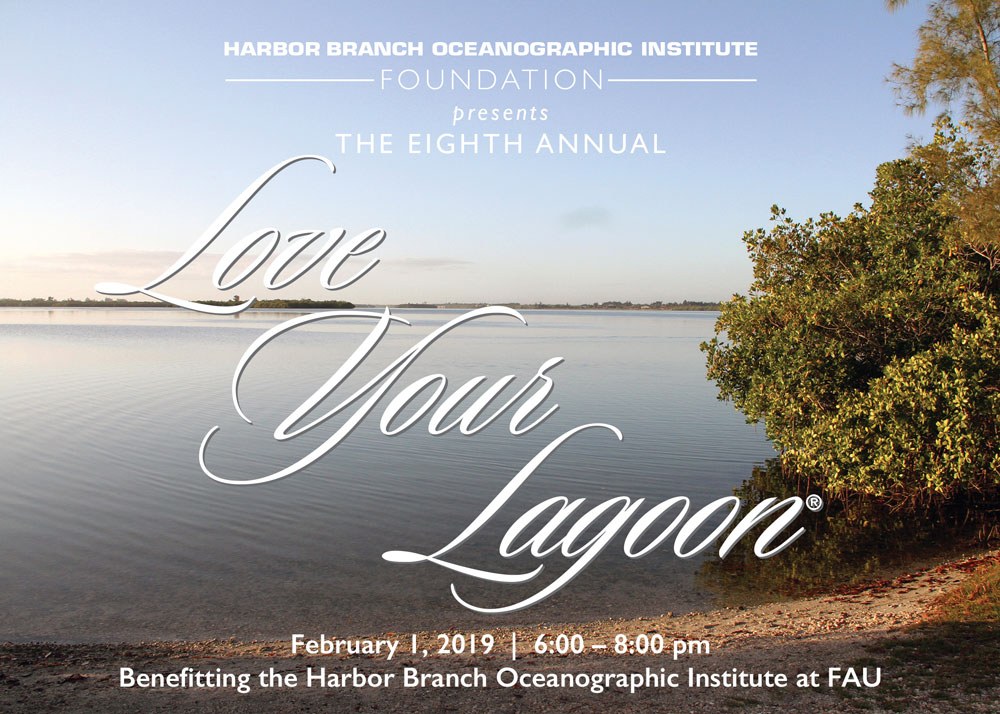 The Love Your Lagoon Gala Dinner, hosted by the Board of Directors of the Harbor Branch Oceanographic Institute Foundation, has raised funds and generated greater awareness of these critical issues for the past 6 years. Since our first event in 2012, over $600,000 has been raised to support FAU Harbor Branch's ongoing Indian River Lagoon Observatory research and outreach efforts. Sponsorships help underwrite the event costs so that 100% of the net proceeds serve this purpose. Through the support of organizations, businesses, and individuals who care about the Indian River Lagoon, our collective efforts over the past seven Love Your Lagoon events, we have provided a total of $614,967 to FAU Harbor Branch to directly support the annual Indian River Lagoon Symposium and various research, education, and outreach efforts on behalf of the Indian River Lagoon. Traditionally, HBOIF has named an honoree at each of its previous events. Past Honorees have included the Florida environmental pioneer, Nathaniel Reed, in 2012; the late, great land and lagoon protector, Alto "Bud" Adams, Jr. in 2013; Vero's First Lady, Alma Lee Loy, in 2014; lagoon advocate, Florida Oceanographic Society's Mark Perry, in 2015; the Smithsonian's early lagoon champion Dr. Mary Rice, in 2016; the woman who coined the name "Indian River Lagoon" as well as so much more, Diane Barile, in 2017; and, in 2018, the twenty-six HBOI Principal Investigators proudly funded by HBOIF: Matt Ajemian, PhD; Steve Burton, MS; Laurent Cherubin, PhD; Fraser Dalgliesh, PhD; Nick Dickens, PhD; Esther Guzman, PhD; Dennis Hanisak, PhD; Mingshun Jiang, PhD; Brian Lapointe, PhD; Susan Laramore, PhD; Jim Masterson, PhD; Marilyn Mazzoil; Peter McCarthy, PhD; Greg O'Corry-Crowe, PhD; Bing Ouyang, PhD; Annie Page-Karjian, PhD; Shirley Pomponi, PhD; John Reed, PhD; Marty Riche, PhD; Adam Schaefer, MPH; James Sullivan, PhD; Michael Twardowski, PhD; Joshua Voss, PhD; Anni Vuorenkoski Dalgliesh, PhD; Guojun Wang, PhD; Paul Wills, PhD; and Amy Wright, PhD. The 2019 Love Your Lagoon event will be held Friday, February 1, 2019 and the 2019 Indian River Lagoon Symposium will be held Thursday, February 7 and Friday, February 8, 2019.




For sponsorship ticket information,
contact Katha Kissman, President & CEO,
at kkissman@hboifoundation.org or 772-466-9876, ext. 200.